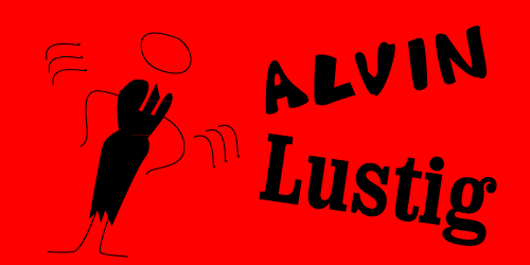 Today I had the opportunity to visit the exhibition "The Lustigs: a Cover Story" at the AIGA National Design Center in New York City. The small space shows the work of famous graphic designer Alvin Lustig and his wife Elaine Lustig Cohen.
Whoever took a class of design history knows that Alvin Lustig literally reinvented the book-cover design between the 1940's and the 1950's. His mix of abstract and representational design created a unique style still used today.
Lustig's work was clearly influenced by contemporary painters such as Klee and Miró, and designers such as Cassandre; however, Lustig had the merit to make those styles his own by reducing them to a form of meaningful essentiality. Lustig took abstract art and made it representational, with the use of geometric figures functional to the book content. If his most famous work is the book-jacket for Rambaud's "A Season in Hell," entire book collections are worth to be mentioned, from the Art Deco and surrealist "New Directions" to the typographical "Meridian." See Alvin Lustig's official website for a complete collection of his design works.
Nowadays, when a book becomes a best-seller and then a movie, the cover is redesigned to include pictures of the movie's actors. This straightforward form of advertisement is effective in selling the item but it fails from a design point of view. With his work, Lustig taught us that the content of a book is a world apart; its cinematographic counterpart cannot reach the multiple layers of depth and details of the written words. A book cover cannot either, but it can gather in a few shapes the hidden essence of the book.